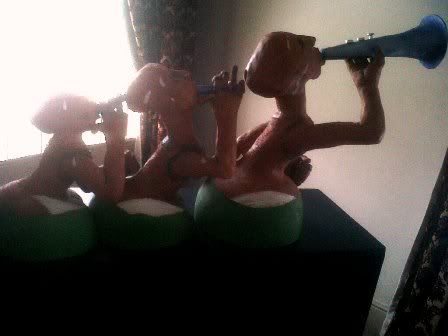 I first saw the ceramic clay sculptures of Tamsanqa Mabo today at the Ann Bryant Art Gallery in East London. Tamsanqa, a B. Tech student of the Walter Sisulu University in East London was still in the process of arranging his work. The exhibition opens to the public tomorrow on 2nd November 2010.
I as a water color artist found Tamsanqa's work uniform in its dimension, the bland color of the brown clay which enveloped all his work felt almost against the colorful traditions of his community, yet a cold shudder created an abstraction, one that makes you look at his work again and again
Is there a visual narrative style which is common to Xhosa creative artists in their work or is there more than that in Tamsanqa's sculpture ? A political emblem in bold has been stamped to each sculpture which obviously has been a personal experience in the journey of Tamsanqa.
Tamsanqa's long journey from the hinterlands of Transkei to clay modelling in W.S.U., a clay blown into an object with baggy shoes and baggy shirts, yet a cruel indisposition that shackles his thoughts remain vulnerable.
The long thin tubular neck of one of his sculpture reminds me of an illusion of a height of a black man and the insults that he had to swallow imprisoned in his thoughts, mind, body and soul. It also expresses a certain dilemma of South Africans of different backgrounds.
Tamsanqa's work has raised a voice of revolt, the voice of the voiceless, somewhat mute yet so resonant
I won't call, Tamsanqa's work, innovative nor decorative, they wouldn't adorn corporate lounges primarily because it disturbingly sends a message of an improvised hurt, it pulls you and makes you think beyond reasoning and a marginalization that still continue to flourish in this country.
Tamsanqa Mabo remains one of those rare creative artist who is driven by a thread encompassing years of understanding and existing in South Africa.
Amitabh Mitra